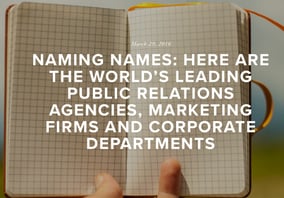 Another feather in our proverbial cap: Business Intelligence Group recently named Rainier Communications as a winner of a 2016 PR & Marketing Excellence Award. The award – PR Campaign of the Year for client Nano Dimension – acknowledges Rainier as one of "the top 11 firms doing it right."
In the announcement about the awards, Russ Fordyce, managing director of the Business Intelligence Group commented, "The demand for strategic communications continues to grow, as we are in the golden age of content…We are so proud to recognize the real leaders within the firms, agencies and corporations that are finding new ways to more effectively communicate."
So what made this an award-winning PR campaign?
When Nano Dimension first came on board with Rainier, the company was still in stealth mode and had yet to introduce its first product, a genuinely groundbreaking 3D printer that produces printed circuit boards (PCBs) for design engineers. It quickly became clear to us, however, that our relationship with Nano Dimension would be unlike any other in the agency's 23+ year history – it's one that has become a model for future client relationships.
Nano Dimension was the first client to benefit from Rainier's new agency-wide HubSpot certification, a move that extended the overall Nano Dimension communications program across what Rainier calls the "content continuum." The addition of inbound marketing gave the Nano Dimension client team timely, data-driven insight into how best to launch the company and its product in a search-engine dominated world. Secondly, Nano Dimension was in the perfect position to take advantage of Rainier's extended service offering, having retained the agency early enough in the process to develop a true strategic partnership in the development of buyer personas, key messaging, SEO strategies, and ultimately connecting across inbound content (owned media) with outbound content (earned media).
How did PR and inbound marketing help Nano Dimension?
Rainier's "unbound marketing" efforts provided Nano Dimension with an explosive launch into the marketplace, catapulting the startup past a crowded field in the 3D printer market. A steady flow of calculated, precise communications initiatives ensured that Nano Dimension had the deepest and broadest brand presence.
The results:
Nano Dimension's rebuilt website, optimized as a HubSpot-hosted and SEO-perfected site, created an inbound engine at the top of the sales funnel.
The market was seeded for the forthcoming introduction of Nano Dimension's DragonFly 2020 3D Printer to create a pipeline of pre-orders and beta customers.
The campaign established Nano Dimension executives as "ink experts" and thought leaders on the convergence of 3D printing and printed electronics.
Nano Dimension received coverage in every trade publication, media outlet covering 3D printing, printed electronics.
Extraordinary video coverage on CNET (filmed at Consumer Electronics Show 2016), viewed more than 18,000 times: Is this the Holy Grail of 3D printers?: CES 2016
The redesigned, optimized website helped company executives manage, respond to and analyze extremely high volume of leads resulting from PR campaign.
At Rainier, we always strive to do our best for our clients and it's exciting to be recognized by the industry for those efforts.