Rainier ended 2016 on a the highest note possible, recognized with a fantastic award: the agency was named a Gold award winner for Bulldog Reporter's Stars of PR Technology Agency of the Year! Stars of PR honors are awarded to agencies and individuals who are performing outstanding work in the public relations and communication industry.
The program is judged by working and award-winning journalists from media outlets such as The Washington Post, USA Today and The Oregonian – and this year's panel included a Pulitzer Prize winner. So it's a tough, discerning crowd for judging. The scoring for agencies is based on firm positioning, account retention, work environment, growth and new business development, improvement to society and results achieved for their clients.
This Technology Agency of the Year win is great news for our firm, but also great news for Rainier clients. Campaigns for three of our clients – E8 Storage, Nano Dimension and Sckipio – were featured in our application. Successfully launching a client or helping them enter a new market helps defines our success as a B2B technology PR agency.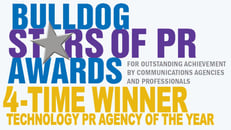 Rainier's guiding operating principal, "to be technically and strategically savvy enough to understand and credibly communicate the impact of technologies to industry influencers," ensures that Rainier consistently connects the dots that other agencies can't even see. We're doing this successfully for these and other clients – and since B2B tech PR is all we do at Rainier, it's great to be recognized as being the best at it!
It's great to be part of a team that consistently provides clients with award-winning counsel and programs. In fact, Rainier won a number of awards in 2016 including:
Bulldog Reporter Media Relations Bronze Award Winner for Best Campaign Under $50,000
Bulldog Reporter Media Relations Silver Award for Best Technology Campaign – Business
The 13th Annual International Business Awards Silver Stevie® Award for Technology PR Campaign of the Year
Bell Ringer Award for Business to Business Launch Campaign
Business Intelligence Group 2016 PR & Marketing Excellence Award
Chief Marketer 2017 B2B Top Shop
And Rainier is also a fantastic place to work. Our boutique-sized team has more than two centuries of accumulated experience in technology PR (and more than a few gray hairs). On average, members of our team have been at Rainier for eight years with several at the agency for more than 10 years – very unusual in the agency realm. Complementing the congenial office environment, we are a wholly mobile workforce which makes us agile, flexible and able to better serve our global clients across extended time zone differences. The ability for the Rainier team to be highly efficient and effective while maximizing quality-of-life aspects lets us produce exceptional results for clients while elevating and sustaining high levels of job satisfaction.
Client success, agency success, and individual success and happiness together make up a top tech PR agency, as evidenced by this prestigious win. Here's to continued success for Rainier and its clients in 2017!