"I would like to do a feature story about (CLIENT NAME REMOVED). It would be published at (WEB SITE REMOVED).com."
That was the first line on an email addressed to one of the client teams at Rainier recently. With the actual client and web sites included, it seemed intriguing. So far, so good.
The email then described the news website where the feature would be published, purporting its worldwide reach for its coverage of "innovative companies" like my client. OK. The client the website writer was soliciting for this feature story is indeed very innovative and has, in fact, been covered in a variety of important publications (cover stories, too). So, it would make sense that any widely read business publication might be interested in learning more.
"Please note, there is a symbolic fee for this … "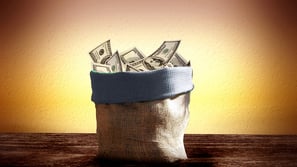 Symbolic fee? What does that even mean?
"Your company is so innovative, we'd cover you for free; we only charge a fee so you'll put your best effort into the interview!"
Or maybe they're admitting, "We have no advertisers so your symbolic payment helps us keep the lights on."
Or maybe they're saying, "Everyone knows our content is bought and paid for by the companies we write about. While your client is special, they aren't so special that they don't have to pay. Sleazy or not, we've got a reputation to uphold!"
Still, they may be onto something with the "symbolic fee" concept. Need a new television? It's free, but there's a symbolic fee for plugging it into the wall. Going out for dinner? Everything on the menu is gratis, but there's a symbolic fee so that the wait staff can buy those comfortable black shoes. Hiring an Uber? There is a symbolic fee for gas and vehicle maintenance, but the ride itself is free. Need to hire a PR agency? There's no charge for the services, but there's a symbolic fee so your company's accountants know who we are.
Seriously, the sky's the limit!
One of the keys to public relations is securing placements in credible publications – from newspapers and business and trade magazines to well-respected blogs, newsletters and websites. Yes, credible and well respected.
With pay-to-play offers, the "publications" typically offer the company paying for the "article" full and completely editorial review and final approval on the copy, artwork and more. Edit to your heart's content. After all, you paid for this puff piece! For an upcharge, the coveted cover spot can be yours – whether your company has produced an airborne pheromone that will bring about world peace, or it's self-published a book of misogynistic jokes. While I didn't inquire about the "symbolic fee" in this not-so-tempting offer, my experience shows these pay-to-play schemes are generally expensive.
Here's the upside. Pay-to-play opportunities result in very nice looking clips. For another upcharge, you can purchase a laminated and framed copy to adorn your office walls or a streaming video to post on your website. There's just that one snag ... the issue of credibility. When a company wants to sell products or services, credibility is exceedingly important.
In my career, I've never recommended a client participate in a pay-to-play scenario because my clients have all been better than that. Their work merits unbiased, real coverage. At Rainier, we pride ourselves on being "Technology's Most Credible Voice" and it holds true in a couple of ways. First, we know technology, so when we speak for our clients, we are credible. We also work hard in protecting our clients from doing things that could undermine their credibility – such as "symbolic fee" opportunities.
In the real world, every printed article will not be perfect, and few, if any, will be puff pieces. Reporters might not write everything we'd like them to write or might even include some unflattering comments. But the coverage will be earned and it will feel genuine.
Don't be taken in by the "symbolic fee" opportunities. Readers are savvy enough to know when content is credible and when it's an infomercial. Have the confidence in what you're doing, put yourselves out there, and let the real coverage roll in – warts and all.